Forbes
published
Top Topless Beaches 2005
review, so I figured I'd put up a little compilation of my own. Sexy, laid-back beach style came to the western culture from Saint-Tropez on France's Cote d'Azur, popularized and made
chic
by the likes of Brigitte Bardot and Ursula Andress. Of course, the French were not the first people to frolic on the beach in a state of semi-undress - the Polynesians after all have been doing it for millennia, honoring this fact it's even considered to be OK in stick-up-the-ass United States to publish pictures of topless
aboriginal
women in magazines considered to be 'family', like Life or National Geographic, despite of that nothing seems to be scarier for 'values' advocates than human female breasts.
Well, let's not get carried away here - should we mention South of France topless beauties (
softb.com
) - here is little something:
According to the popular belief, most of the European beaches are top-free nowadays, i.e. it's acceptable for women to sunbath topless if they choose to, quite contrary to the situation in the US. This is what we're missing:
* pics:
Beach thread at mokkels.nl
=
forum.mokkels.nl
-> Onbekende mokkels -> Strandmokkels (updated pretty often)
* pics:
Why we go to the beach
collection
* pics:
toplessbeach.it
(censored
faces
)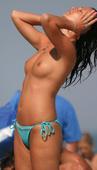 One couldn't help but wonder though, if it's so common to go to the beach topless in Europe, how come so many topless beach pics are hosted on european sites and forums? Of course people in the US still enjoy looking at bikini beach pics, even though it's nothing forbidden and can be seen on every beach, which to some extent justifies europeans collecting topless pics.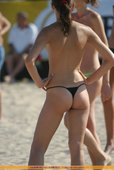 * vids @ rapidshare:
un
(.WMV, 7.3MB, 2:05min),
deux
(.MPG, 12.5MB, 1:14min),
trois
(.MPG, 9.8MB, 1:16min)
Still many european sites focuse exculsively on topless pics, not bikini and topless pics alltogether, but just topless - does this imply that this phenomenon is still not as common as many americans might think? Aghh, who cares anyway? - Let's just enjoy the view!
Before wrapping this post up let me mention
NudistLog.com
, which list many 'useful' links.
And finally a little piece of wisdom somewhat related to this whole issue:
Never flirt at a nudist beach
.
nudebeach.ws | nudebeachgalleries.com