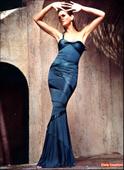 Cindy Crawford in July/2005 issue of UK Tatler magazine.
"When I [reporter] suggest the 39-year-old mother of two could be the poster girl for the new generation of yummy-mummies, Cindy suggests another expression to describe herself: 'MILF', she says. 'I like that much better'."

"She admits it was tough to break out of the 'Cindy' mould in the past, that 'Cindy' who 'is healthy, all-American, sexy but not trashy-sexy"

"Cindy has always been a trabilizer. She was short for a model, just five foot nine. She was first of the supermodels to appear nude in Playboy"


Cindy Crawford, July 2005
Scans: pereanathan of
CindyPlanet
.