420
, 4:20, 4/20, or what ever you wanna call it, is an important notion in cannabis
culture
, which is generally accepted and even welcome in modern western society. Smoking marijuana at 4:20 (preferably AM, as PM can be construed as 16:20) or on April 20 has special meaning to some,
420.com
tells us the whole story.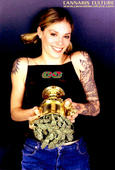 PureTHCgirls.com
,
420girls.com
&
MarijuanaGirls.com
bring together pot and naked chics, the latter in a manner somewhat similar to
Linux girls
. Check out their galleries for nude sensimillia babes.
Naturally, dope theme made it's way into the world of mainstream fashion magazines. In the pictures: Natalia Vodianova from 12/2002 Italian Vogue, ph. Steven Meisel (
complete editorial
).
And one more thing about today...
On April 20th, 1889 Adolf Schicklgruber was
born
in
Braunau am Inn
,
Austria-Hungary
. Yes, I mean
Hitler
.
After all I do have a word 'Wehrmacht' in my blog title (
joke
).
P.S. Ironically, this post is coming from someone who considers himself an antifascist and who never smoked anything but tobacco. No, wait, in a first grade the author and his buddy and tried smoking rolled up loose leaf black tea - horrible experience I have to tell you, but that doesn't really count, does it?
Also author's ex-girlfriend was born on April 20; she's now married to a German and lives in Deutschland.