These days people can't seem to get enough of those blonde hotel-fortune scions, the Hilton sisters -
Paris
and
Nicky
. While they did absolutely nothing to earn their celebrity besides kick up their Lucite heels while canoodling with similar B-list celebrities at it-bars across the world, their stars were officially launched in a September/2000 Vanity Fair spread.
At the time, Paris and Nicky were just 19 and 16 years of age, respectively. But they let it all hang out, literally in Paris's case. In this photo spread, shot by the gay pal
David LaChapelle
, Paris is pictured wearing a see-through mesh tank-top while flipping the bird in her grandmother's Beverly Hills living room, as well as playing peek-a-boo with her right nipple while laying sprawled on a beach surrounded by surfers, who looked more puzzled than lustful. The Hilton family, allegedly, didn't know anything about these pictures until the issue of VF hit the stands, and was quite dissapointed by the explicitness of the images, which of course was just the beginning - apparently, around the same time Paris and Rick Salomon were filming the infamous
hardcore
homevideo, which was released all over the Internet in October/2003 and later came out on
DVD
, and
really
made Paris Hilton noticed.
Paris Hilton and David Lachapelle at the 2004 MTV Video Music Awards, Paris' dress doesn't really leave anything to imagination.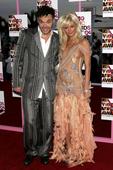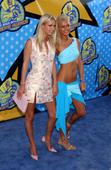 In the third picture we see Paris and Nicky at the 2003 MTV Movie Awards, this time it's not a see-through attire she's wearing, but this sad fact is well compensated for, if you know what I mean.
Fruitful collaboration of Paris and Lachapelle continued in December/2004 issue of Rolling Stone magazine: