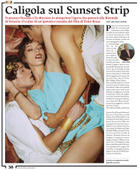 Pictures of
Milla Jovovich
(
Мiла Йововiч
) posing as
Druscilla
and dressed in Versace from UK Vogue
Stories
, 13/June/2005 and Italian Rolling Stone magazine, June/2005.
In March 2005, Italian artist
Francesco Vezzoli
filmed a
faux
trailer for a non-existent remake of 1979
Caligula
, which debuted 10/June/2005 at the
Venice Biennale
2005 (cast: Quentin Tarantino - Caligula, Milla Jovovich - Druscilla, Karen Black - Agrippina, Benicio Del Toro - Macro, Michelle Phillips - Messalina, Glenn Shadix - Claudius, Helen Mirren - Tiberia, Gore Vidal - himself).
Donatella Versace
designed costumes for the film which is allegedly ss explosive as the original director Tinto Brass' version.
via MillaJ.com